Future
Latin American countries want to cash in on the post-pandemic changes to the fundamental ways we work and live, in particular by capitalizing on a growing demand from the new wave of remote workers and "youngish" professional freelancers with money to spend.
LIMA — Niels Olson, Ecuador's tourism minister, is working hard to bring "digital nomads" to his country. He believes that attracting this new generation of freelancers who can work from anywhere for extended visits is a unique opportunity for all.
Olson recently tweeted that the average freelancer based in New York City could lower standard monthly costs from $4,000 to $1,000 by setting up shop in Ecuador.
Living in a town like Puerto López, he wrote, the expat freelancer could "work by the sea, live with a mostly vaccinated population, in the same time zone, (enjoy) an excellent climate, and eat fresh seafood." For Ecuador, the new influx of visitors with money to spend would help boost the country's economy.
To this end, he says, the government of President Guillermo Lasso is preparing a temporary residency visa for such workers. It "allows foreigners to work remotely for foreign firms in Ecuador. How does it benefit our country? By bringing foreign exchange into our economy and creating jobs," Olson stated.
Ecuador wants to be the first Latin American country to issue such visas, and the timing could not be better. While online-based freelancers already hopped from country to country before COVID-19, the pandemic has boosted their current numbers to around 100 million worldwide. The Inter-American Development Bank estimates there could be a billion roaming, digital workers by 2050.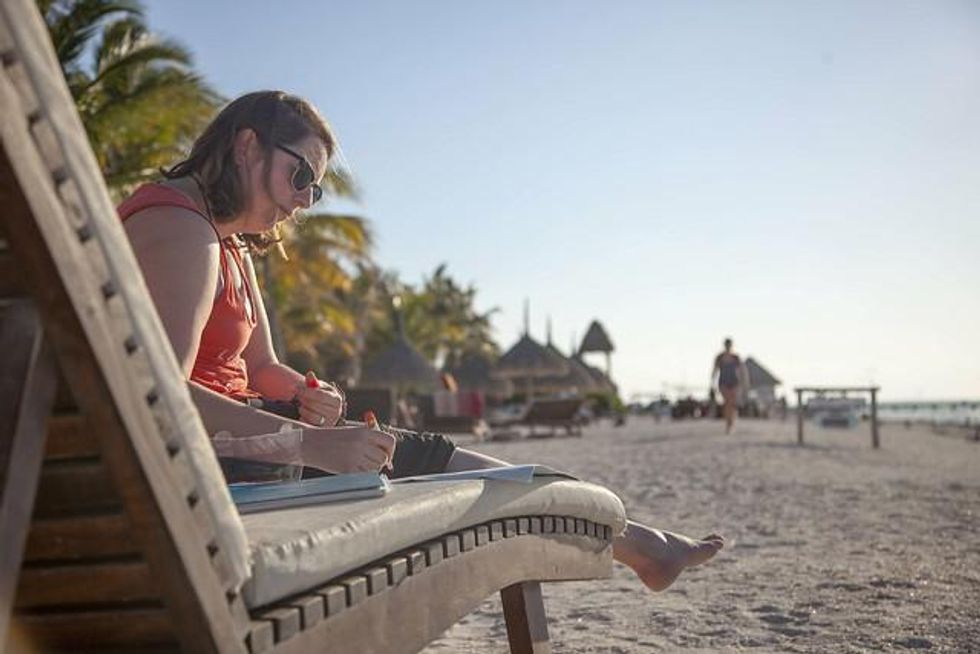 A remote worker on the beach in Mexico — Photo: Wonderlijk Werken
Latin America wants to compete with Europe 
Some European countries already issue visas for digital nomads. They include Germany, Portugal, Iceland, Croatia, Estonia and the Czech Republic, but in the Americas, only four countries make the list, namely Antigua and Barbuda, Barbados, Panama and Costa Rica.
In August 2021, Costa Rica approved a law for remote workers and international service providers, intended to attract digital nomads and make its travel sector more competitive. The law provides legal guarantees and specific tax exemptions for remote workers choosing to make the country their place of work.
It allows foreign nationals earning more than $3,000 a month to stay for up to a year in the country, with the ability to renew their visa for an additional year. If applicants are a family, the income requisite rises to $5,000.
Carlos Ricardo Benavides, the legislator promoting this law, says it will be a stimulus for Costa Rica's "economic reactivation. With this legislation, which is pioneering in its area, Costa Rica has a great tool to boost the country as a choice destination."
Neighboring Panama is also creating short-term residencies for remote workers and plans to extend tourist visas. The nation hopes to use the foreign cash spent on hospitality, retail and local services to revive an economy that shrank 17.9% in 2020.
Mexico offers temporary residencies to attract digital nomads
Mexico, meanwhile, offers no particular visa for digital nomads but remains one of their favored destinations, with 20 Mexican cities and towns currently hosting remote workers.. At the moment, the country simply offers temporary residencies for applicants able to show financial solvency (either $1,650 in monthly income or a bank balance with at least $27,000).
In Colombia, the government approved a Law of Enterprises that includes special migratory rules. It stipulates that the "Government, through the Ministry of Foreign Relations, shall expedite a special regimen for the entry, residence and work of digital nomads [...] with the purpose of promoting the country as a center for remote work."
When it comes to choosing a destination, taxes are often a decisive factor for digital nomads. Foreigners must consider facilities and infrastructure provided by host country, says Valeria Galindo, People Advisory Services Partner with the accounting firm EY Perú. But no less important in the choice of destination are " the tax consequences moving to a foreign country can have for themselves and their firm. Let's remember, many countries work on the basis of territoriality, which can generate taxes both in the destination country and in terms of the firm's settlement arrangements."
AirBnB partners with the city of Buenos Aires
Why are various Latin American countries courting digital nomads as residents? A study by the Adventure Travel Trade Association, called "Work and Wander: Meet Today's Digital Nomads," found that 87% of them earned around $4,500 a month, and spent around 36% of these earnings wherever they reside. Their work profiles were a mix of writing, sales and IT programming.
The website Nomadlist also finds these workers are generally young and more disposed to try different experiences and visit new places.
Their disposable income — and their willingness to spend it — makes digital nomads a boon to the continent's battered travel sector. The Mexican government found that a single person's stay for three months or longer translates to thousands of dollars poured into the local economy.
Victoria Bramati, Airbnb's communications chief for South America, says "the pandemic is changing the way we work, live and travel. People want to live anywhere," and technology is making this possible. This, she adds, is "happening in real time." In June 2021, the company came up with Live Anywhere on Airbnb, a pilot program where 12 people shared various Airbnb lodgings for 10 months. She said it was an opportunity for people to "make the world their home" for nearly a year, with most of the costs at Airbnb's expense. The firm recently signed an agreement with the Buenos Aires city government to jointly promote the Argentine capital as an international destination, particularly for remote workers.
Between its low costs, exotic destinations and colorful cultures, Latin America has a major potential to become the next digital nomad hotspot. And the moment is ripe to entice travelers who don't need — or want — to return home.