What began as a small U.S.-based conspiracy theory on the fringes of the internet is shaping up to become a global movement. QAnon today boasts adherents in more than 70 countries around the world, according to research from Canada's Concordia University. In some of these, the movement is estimated to have tens of thousands of followers; in France and Italy, QAnon content is spreading rapidly online in local languages, while in London and Berlin, QAnon protests have already moved from the internet to the streets.

American roots: QAnon got its start in October 2017, when an anonymous user called Q began spreading false theories on virtual messaging boards about Hillary Clinton and a child sex ring operating out of a Washington D.C. pizza parlor. Today, while paedophilia and a shadow government remains at the core of the theory, it has grown to become an amorphous idea that is affecting the ongoing U.S. election campaign — while spreading rapidly around the world.
QAnon supporters believe that US President Donald Trump is fighting an international pedophile elite that has been secretly abducting and sexually abusing children, and harvesting their blood to make a youth serum.
As outlandish as these ideas sound, a fresh poll shows that 6% of Americans believe them to be true.
Now, as the coronavirus has created the perfect storm of fear, uncertainty and increased screen time, the movement is growing rapidly, both in numbers and geographically.

Adaptable narratives: Most QAnon content continues to be shared in the US, but studies show that the movement is gaining international traction. Part of what makes this rapid spread possible is the adaptability of the QAnon conspiracy theory.

Global spread: Britain is currently the country where the second-largest amount of sharing takes place, followed by Canada, Australia and Germany. While the main tenets center on a pedophile elite attempting to control the world, the theory is being applied to local narratives, including those related to pandemic.
QAnon supporters joined anti-restriction protesters in the streets of Berlin in late August to manifest against Germany's coronavirus rules, Deutsche Welle reported. Protesters carried signs reading "Stop the corona lies" and "End the pandemic immediately," suggesting that COVID-19 was an artificial event.
In Australia, QAnon has mixed with other global conspiracy theorists, including those claiming 5G towers spreading coronavirus. In an especially local twist, some QAnon posts claim that Melbourne's coronavirus lockdown was a smokescreen for a rescue operation involving child sex-trafficking victims in the city's storm drain tunnels, The Sydney Morning Herald reports.
In Brazil, one of the South American countries where QAnon content is spreading the fastest, national VIPs have been baked into the theory and pointed out as culprits, including TV host Luciano Huck, YouTuber Felipe Neto, a range of left-wing politicians as well as Venezuelan president Nicolás Maduro. QAnon content has also been given an unexpected distribution boost by New Age groups adopting the theory. These spiritual and pseudoscientific communities, with practises ranging from shamanism and crystal healing to yoga and numerology, are playing a prominent role in introducing and domesticating QAnon narratives in Brazil.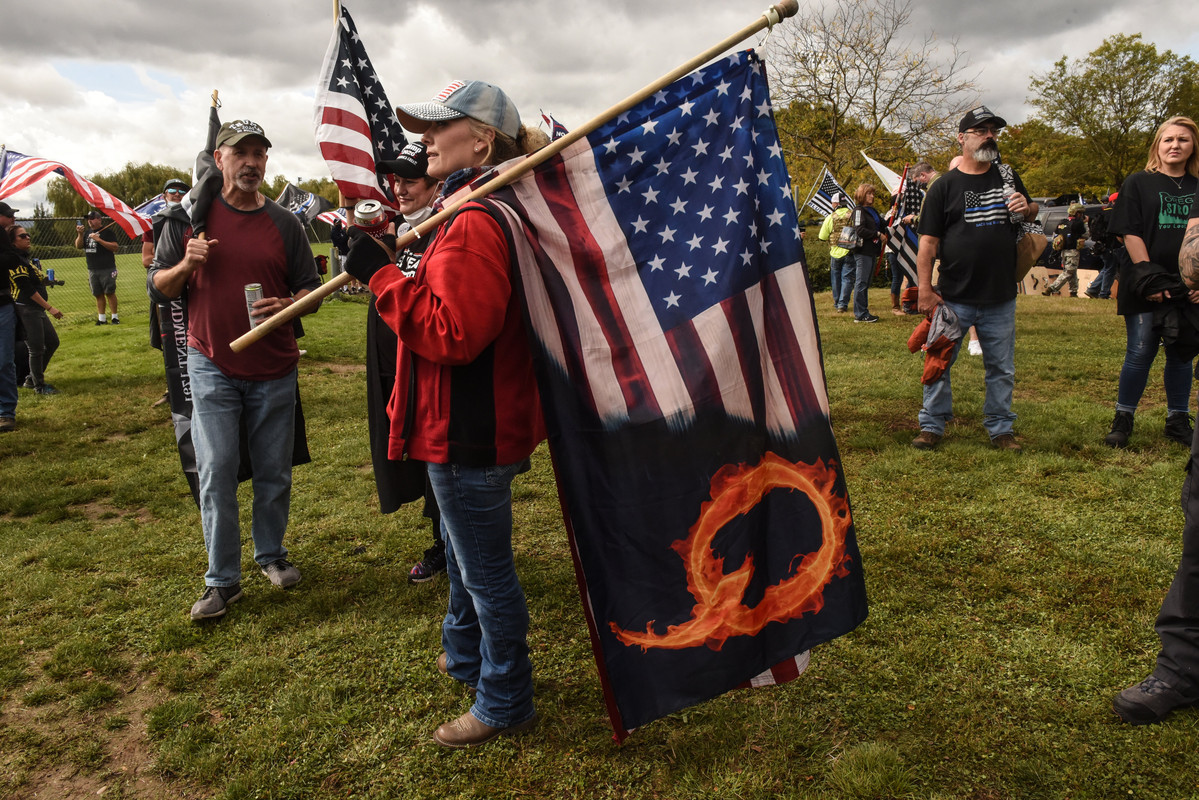 Holding a flag with half an American flag and half for the QAnon conspiracy theory — Photo: Stephanie Keith/ZUMA
Platform virus: Social media platforms like Facebook and Twitter have stepped up efforts to try to combat the proliferation of Q conspiracy theories, with Twitter announcing in July to have removed over 7,000 QAnon accounts from the platform. But new accounts seem destined to pop up and gain even more followers. According to Newsguard, there were 450,000 known followers of QAnon sites in France, Italy, Germany and Britain in July.

More global hotspots:
---
See more from World Affairs here