In the United States, the social media application Parler was the platform of choice for the insurrectionists behind the Jan. 6 capital mob. While the app has been taken off the main servers and app stores (though it is now back online), social movements on all sides of the political spectrum worldwide are trying to leave behind mainstream tech giants like Facebook and Twitter. While some activists and protestors are looking for a place to organize without government surveillance and censorship, politicians are also looking to local alternatives to cement their power.
A wave of new right-wing sites in Poland
Not one but three new social media companies have grown in popularity in Poland, where the populist national government is attempting to "protect freedom of expression on the internet" while combating so-called "political correctness."
As reported in Le Monde, the Albicla platform was started last month with support from the far-right and pro-government newspaper Gazeta Polska. Its goal is to provide a "free and patriotic discussion forum, devoid of any censorship" and its slogan in English is "Let AlBiCla," a riff on "Let All Be Clear." The platform currently has only 10,000 users, but those notably include the President of the Republic, Andrzej Duda, and many ministers.
Polfejs, a sort of failed Polish Facebook that first came around in 2017, decided to relaunch with around 17,000 members. This year has also seen the emergence of Wolni Slowianie, a social network started by a group of right-wing survivalists. Using pseudonyms and wearing hoods, they announced their arrival on YouTube.
Inspired by their American counterparts, right-wing movements in Poland have denounced what they call freedom of speech suppression by Facebook and Twitter, which temporarily removed many of their accounts and pages in 2016. In a recent Facebook post, Prime Minister Mateusz Morawiecki wrote, "Social media cannot act as if it is above the law. Therefore we will do all we can to set out a framework for the functioning of Facebook, Twitter, Instagram and other similar platforms."
Russian app with tight security goes global
Since 2013, instant messaging app Telegram has become a crucial means of end-to-end encrypted communications, most recently in its home country of Russia with protestors organizing rallies in support of opposition figure Alexei Navalny.
Russian brothers and coders Nikolai and Pavel Durov created Telegram, which is currently headquartered in London and Dubai. It has been used by activist movements around the world, including in Hong Kong, Thailand and Iran. Last year, the platform was an essential tool for Belarusians protesting against President Alexander Lukashenko.
Russian officials attempted to block Telegram in 2018, but the site was still accessible and this ban was overturned last year. The app is particularly popular because it can often still function during internet outages, a popular move to quell protests.
With Navalny now sentenced to three and a half years in prison, his former chief of staff and close ally Leonid Volkov is using his Telegram channel to call for mass protests. They are using #ЛюбовьСильнееСтраха ("Love is Stronger than Fear"), according to Russian news site Meduza.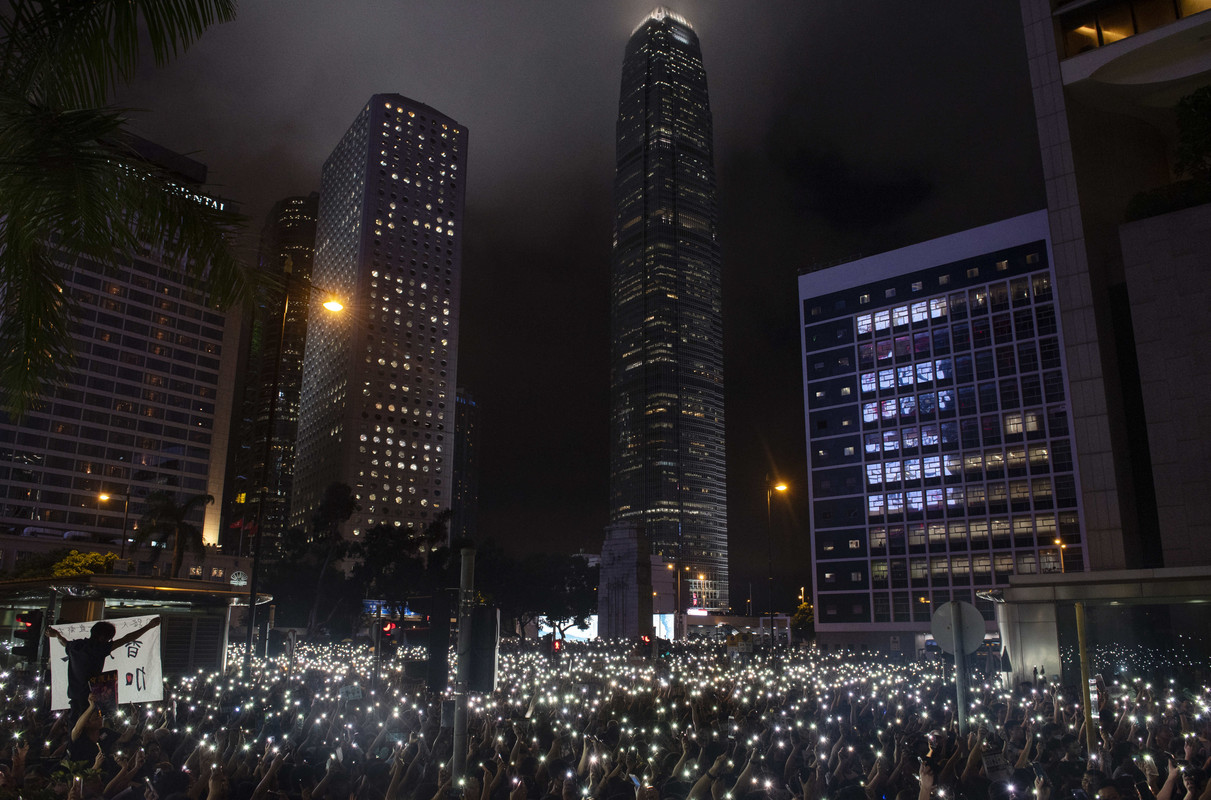 Protestors holding up their phones in Hong Kong — Photo: Miguel Candela/SOPA Images/ZUMA
The app requiring no internet powers #BlackLivesMatter
Bridgefy, created by a San Francisco-based start-up, facilitates communication using Bluetooth, which is particularly useful when authorities have curtailed internet access.
Relying on what's called a mesh network, users can chat privately with their contacts as well as broadcast a message to anyone within Bluetooth range. Bridgefy became incredibly popular during the 2019-2020 anti-extradition Hong Kong movement; it also saw a large spike in downloads during summer 2020 #BlackLivesMatter protests around the United States.
Jorge Ríos, who is the CEO and a co-founder of Bridgefy, writes in Rest of World that they had created the app for education and messaging purposes. Bridgefy first gained success in 2017 during Hurricanes Irma and Harvey and the earthquake in Mexico, as people could still communicate despite internet outages.
Ríos also writes that they did not plan for the app to have a political purpose, but "you do not decide what your product is, how people are going to use it, or what value you're going to bring. Your users do."
Indian officials turn to a Twitter alternative
Koo, a microblogging platform, is seeing a growth in Indian government official users following Twitter's refusal to block some 257 tweets, accounts and a hashtag about the recent large-scale protests by farmers.
These demonstrations started last year over three farm acts passed by the Indian parliament. Claiming that Twitter allowed for the spread of misinformation, the Ministry of Electronics and IT, the National Institute of Electronics and Information Technology and entities including Digital India (a government campaign) and India Post (the postal system) have all flocked to Koo, as reported in The Wire.
Entrepreneurs Aprameya Radhakrishna and Mayank Bidawatka launched Koo in March 2020 "for Indians to share their views in their mother tongue and have meaningful discussions." Created as part of a government-sponsored start-up challenge, it now has over a million active users.
Twitter blocked and then unblocked content and accounts, which included a politician with the Communist Party of India and a farm organization. Twitter said it told representatives of Narendra Modi's government that the material was newsworthy and represented free speech.
---
See more from Tech / Science here