As the coronavirus has spread across the world, so too have an array of fake remedies and cures that promise to protect people. Social media have been flooded with claims about foods, products and other assorted concoctions that can allegedly cure or prevent the virus. Up to the point that the World Health Organization had to issue warnings about such myths. Needless to say, they vary by location, culture and tradition — but no matter where you live, don't follow these faux cures at home:
French cheese: A Facebook post that was widely shared suggested that "Penicillium Roqueforti", the mold used to make Roquefort, the French blue cheese, was used by professor Didier Raoult in the creation of chloroquine and tested by the French physician in the fight against coronavirus, Le Monde reports. The author of the post himself admitted later on that his post was a "positive 'fake news'" to add a "touch of humor in this difficult time" as well as to promote Roquefort.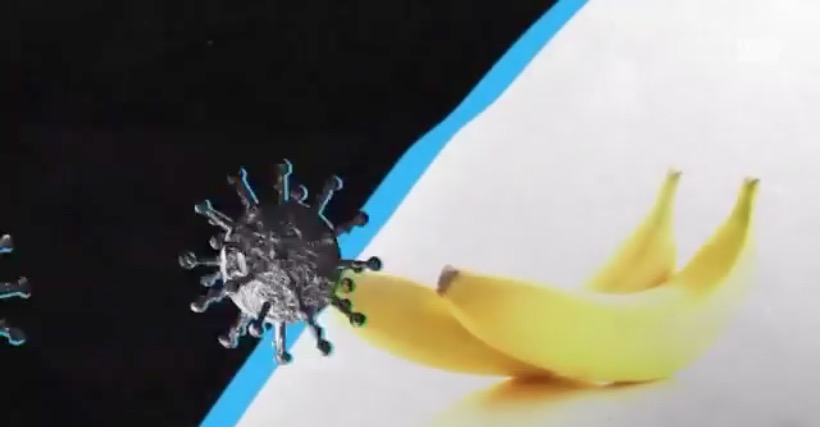 Bananas to fight the virus? — Screenshot
Bananas: A video entitled "A banana a day keeps the coronavirus away" circulated online, which appeared to be a report promoting bananas as a way to improve the immune system thanks to fruit's concentration of vitamin B6. The video turned out to be a mix of two reports from an Australian television channel and The Wall Street Journal which didn't mention bananas at all.

Cow urine: In India, a group of Hindu activists organized a "cow urine drinking party" in an attempt to ward off the virus, The Wire reports. Hindus consider the cow sacred and some believe that the animal's urine, called "Gomutra", has medicinal properties.
The herbal tea "Covid-Organics" — Photo: Media1
Garlic: It may be of the most mentioned fake health tips online and despite the fact that there is no evidence that eating raw garlic protects people from the virus, the myth seems to endure. The The South China Morning Post reported the case of a woman who, after eating around 1.5 kilograms of garlic over two weeks, needed hospital treatment as her throat was inflamed to the point she could no longer speak.

Vodka to herbal remedy: While Belarus President Alexander Lukashenko have been encouraging its citizens to drink vodka, Madagascar President Andry Rajoelina has launched "Covid-Organics", a herbal tea to cure the virus. According to RFI, the decoction will be sold in supermarkets and pharmacies and some students who were going back to school will be required to take it.
---
For the coming weeks, Worldcrunch will be delivering daily updates on the coronavirus pandemic from the best, most trusted international news sources — regardless of language or geography. To receive the daily Coronavirus global brief in your inbox, sign up here.
---
See more from Coronavirus here