Is there a permanent relationship between the idea we have of death and that of ourselves?
— Philippe Ariés, Western Attitudes Toward Death
BERGAMO — The bells toll for the dead in the deserted streets of the small village of Alzano Sopra, near the northern Italian city of Bergamo. The front door of the austere San Lorenzo Martire church is open, but the portico arcade at the end of the marble stairway is still empty. Inside the church, a black urn surrounded by white orchids sits on an altar. The hand sanitizer dispenser in the middle of the entrance and signs on the walls reminding visitors they must wear a facemask are hints of life that can't quite resume like before.
The photograph of an old man with his hair turned white sits on the altar. He looks straight into the lens without smiling, and there's a sign on the pillow of orchids from loved ones. Shortly after 3 p.m., groups of Red Cross volunteers start to appear from the bottom of the valley, dressed in their rescuer outfits.
Franco Gubinelli, 80, was one of the managers of the local Red Cross branch. He died of COVID-19 back in March, but his funeral took place more than two months later, on June 12. His body had been taken to Florence on an army truck to be cremated and was handed back to his family more than one month later.
Meanwhile, his daughter, Michela, and grandchildren try to reckon with their sudden loss without the chance to say goodbye with a funeral: one day, Gubinelli was taken away in an ambulance, and a few weeks later he had died. The family waited for the end of the ban on funerals to allow friends, relatives and acquaintances to attend a mass in honor of someone who'd had a major role in the community. "I thought that many would have liked to attend his funeral," she says.
The hamlet of Alzano Sopra sits at the foot of the Alps along the river Serio in Lombardy, the Italian region hardest hit by the coronavirus. In the past, this area was home to some important plants — first wool, then paper, then to one of the biggest cement manufactures in Europe. Between February and April 2020, this area between the Serio valley and the southern Bergamo province recorded the highest coronavirus death toll in Italy: more than 6,000 people.
In some towns, the virus wiped out an entire generation of people over 60 who still participated in community life. "It created holes in our social fabric," says Camillo Bertocchi, the mayor of Alzano Lombardo. "In many cases, the people who died had central roles in our community. They volunteered in associations, parishes and local societies. They were reference points that we'll struggle to replace. This is another emergency we'll have to face." In some small towns of the Serio and Brembo valleys, deaths jumped 2,000% compared to the same period last year.
Hints of life that can't quite resume like before — Photo: Sergio Agazzi/IPA/ZUMA
"We narrowly avoided mass graves," says Vanda Piccioli, who owns a funeral company in Alzano Lombardo. Recounting what she's been through in the last few months, tears gather in her eyes, even if she's been in the funereal business for years. "Sometimes, before coming home to my children, I would pull over and cry — out of fear, frustration and tiredness," she says. "We've seen things we'd now like to forget."
The image of mass graves is harsh but realistic — some were dug in countries including the US, where dozens of bodies were buried on Hart Island in New York City in April. "Our company usually carries out 1,400 funeral services a year — we did 1,100 in March alone," Piccioli says. "It means we did a year's work in one month. At the peak, we had 60 to 80 bodies a day." The worst days, she recalls with precision, were March 13, 14 and 15.
The presence of the disease and death in small towns where everybody knows each other, together with the inability to hold funerals for more than two months, has left many with anxiety and a lack of closure, which for some has turned into lasting psychological distress. "Many said they were unable to process what was going on," Piccioli says. "They expected their parents to come back any minute." The death of a loved one became like a disappearance, and the grieving process freezes.
Funeral workers also faced a difficult new situation. "The dead couldn't be washed or dressed as usual, because their bodies were considered infectious. Many hospital morgues would give them to us in a black bag or wrapped in disinfected sheets — we also risked becoming infected," Piccioli says. In the first few weeks, funeral workers also lacked masks.
In many cases, the relatives of the dead would give the workers personal belongings or clothes to put in their coffin. "We felt as if we were a bridge between the families and the dead. We all know each other around here, so people would text me, asking to say a prayer or bring an object. I felt a great sense of responsibility," she says.
We've seen things we'd now like to forget.
One of the most iconic images of the Italian coronavirus outbreak is that of army trucks transporting dozens of coffins from the Bergamo cemetery to other Italian cities to cremate the bodies. Another one is the video of a journalist flipping through the Eco di Bergamo, the local paper, which had dedicated multiple pages to obituaries, which typically occupy half a page. "The obituaries pages grew day by day; at the peak, we had 13 pages," says the paper's editor-in-chief, Alberto Ceresoli. The news could shock journalists too. "We would find the news of a relative's or a friends' death there. We were involved, but I think that the force of the events helped us hang in. We didn't even have the time to pause and think of our grief."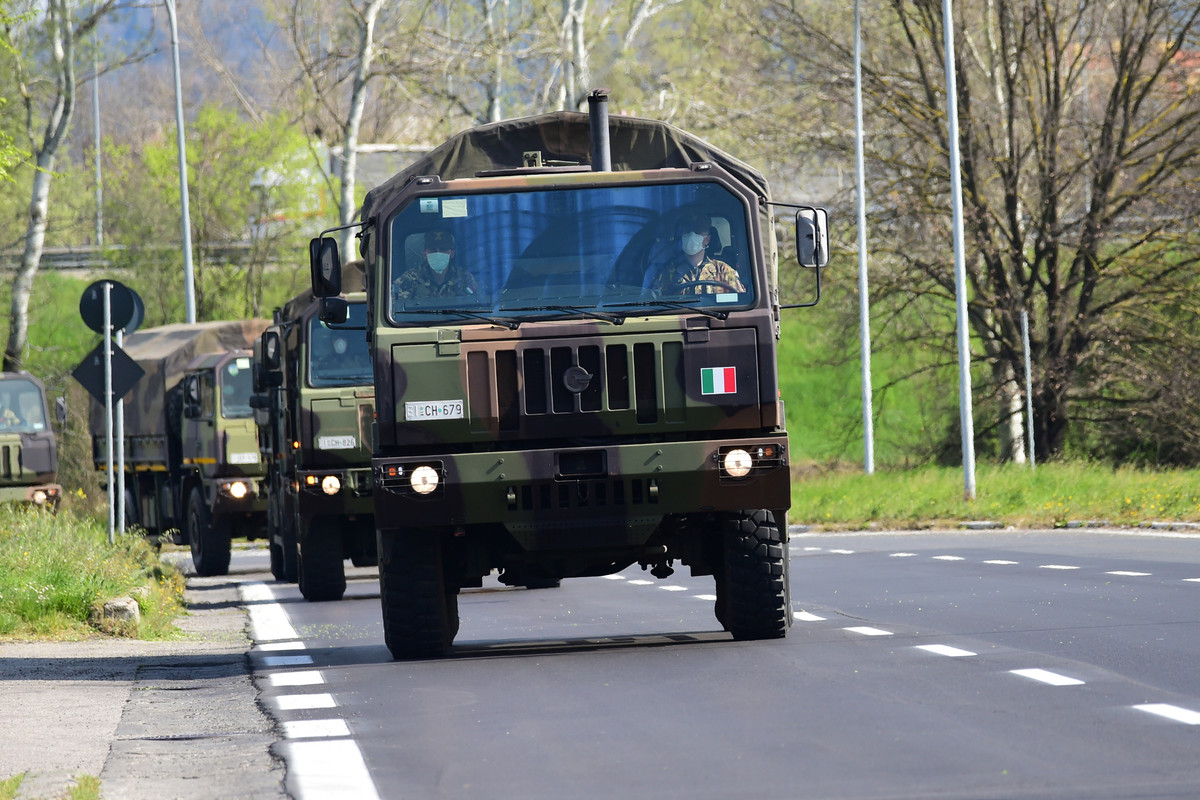 Military trucks carrying bodies of patients who died from COVID-19 infections from Bergamo to Bologna — Photo: Gianni SchicchiXinhua/ZUMA
Families, mayors and infected people called the Eco every day, and the newspaper decided to take on a role in the community's processing of grief and memory. "From April 30 April to June 3, we published a kind of memorial on the façade of our building, projecting the photos of about 5,000 people," Ceresoli says. "Locals would arrive at any hour, gather in front of the façade and bring flowers. We have to remember these victims. I think their memory will help the city restart; there's no will to forget."
As the French historian Philippe Ariés wrote in his "Western Attitudes Towards Death," the dead of medieval Europe were routinely buried in anonymous mass graves, charnel grounds and chapels. The worship of the dead and individual graves arose later, with mass graves becoming a symbol of the barbarity of wars and other catastrophes.
But recently, death is denied, removed out of sight and no longer talked about. Death has become a taboo even greater than sex. The pandemic and the suspension of funerals has brought to light this tension and our society's relationship with death.
Psychological support is seen as a stigma.
This situation has left long-lasting effects and psychological wounds in the community, even if residents find it hard to talk about it. A recent survey by the Istituto Mario Negri said that the coronavirus had left Bergamo with the worst mental health toll in Lombardy. Nearly 50% of all interviewees reported symptoms of stress, and 5.3% said the symptoms were severe.
Maurizio Bonati, head of public health at the Istituto Mario Negri, explained that researchers found "a correlation between mental health well-being and distance from the area of Nembro and Alzano. The farther from it, the fewer the symptoms."
Today, the risk lies in turning your back to sorrow, focusing solely on the economy, and trying to forget. "Some have already tried to remove the tragedy through chauvinist slogans calling on people to move on, but leaving the pain to linger," says Paolo Barcella, a professor of contemporary history at the University of Bergamo who is running a project on processing grief and preserving memory in the areas in Italy that recorded the most deaths for coronavirus. "The real challenge will be to metabolize this pain, respecting the course of times and the need to grieve. Not processing personal tragedies creates fertile ground for psychological suffering."
According to Barcella, we must first understand what happens when an entire generation, with its resources and memories, disappears from a community; what happens when children experience the vanishing of the voices coming from their past, which often represent their first brush with history. Barcella says that psychological support is unpopular and seen as a stigma in Bergamo, and yet we should think of collective answers to deal with the catastrophe.
"Hostility to psychotherapy is widespread even among the most educated groups," he says. "The idea that one should look after oneself dominates. And so, hypochondria, psychosomatic reactions, medicalization of psychological distress and outbursts prevail. Everything to not accept the responsibility of our limits."
Isaia Invernizzi of Eco di Bergamo contributed to this article.
---
See more from World Affairs here