-OpEd-
CONARKY — Chances are that your social media feed already features plenty of freshly #vaxxed friends and family proudly showing off Band-Aids on their biceps or signed certificates indicating that they're now protected against COVID-19.
Throughout Europe, the vaccination campaign has indeed begun to take off. And yet, the sad reality is that in the rest of the world, one in four people will likely have to wait until at least 2023 for access to a vaccine.
Because of this disparity, many are demanding solutions: Either vaccine patents must be lifted or more contributions made to the COVAX program, the international vaccine-access campaign being co-led by the World Health Organization.
Should we be fighting for total vaccination equity? Absolutely. It goes without saying that everyone should have access to vaccines. But before that can happen, there's another, crucially important issue at stake: The willingness of people to even accept the vaccine. This is especially pertinent in the developing world, where citizens tend to have very little trust in their governments.
Our organization, Search for Common Ground, is dedicated to peace-building in post-conflict countries, and we have conducted several surveys on the links between coronavirus and conflict throughout the Global South. We have found that only 36% of respondents responded "satisfied" when asked about their government's handling of the pandemic. Even more telling is that 50% rated their government as employing a "discriminatory approach" (i.e. failing to take into consideration the needs of various segments of the population) in their coronavirus response.
For persecuted minorities or those living under authoritarianism and corruption, distrust in government is to be expected. This skepticism may protect citizens in normal times but, is deadly during a global pandemic, when trust in the state, particularly in its vaccination plan, is absolutely essential.
This distrust is already unfolding with troubling ramifications. While the media celebrates the delivery of vaccines to certain parts of the Global South, the coverage of extreme vaccine hesitancy is lacking. A case in point is the Democratic Republic of Congo, which has just returned 75% of its COVAX vaccines — the equivalent of 1.3 million unused doses.
Meanwhile, health authorities in Ivory Coast worry that 500,000 doses of vaccine will expire because there are not enough people on the vaccination lists. What links these two countries? A history of conflict and low trust in the government.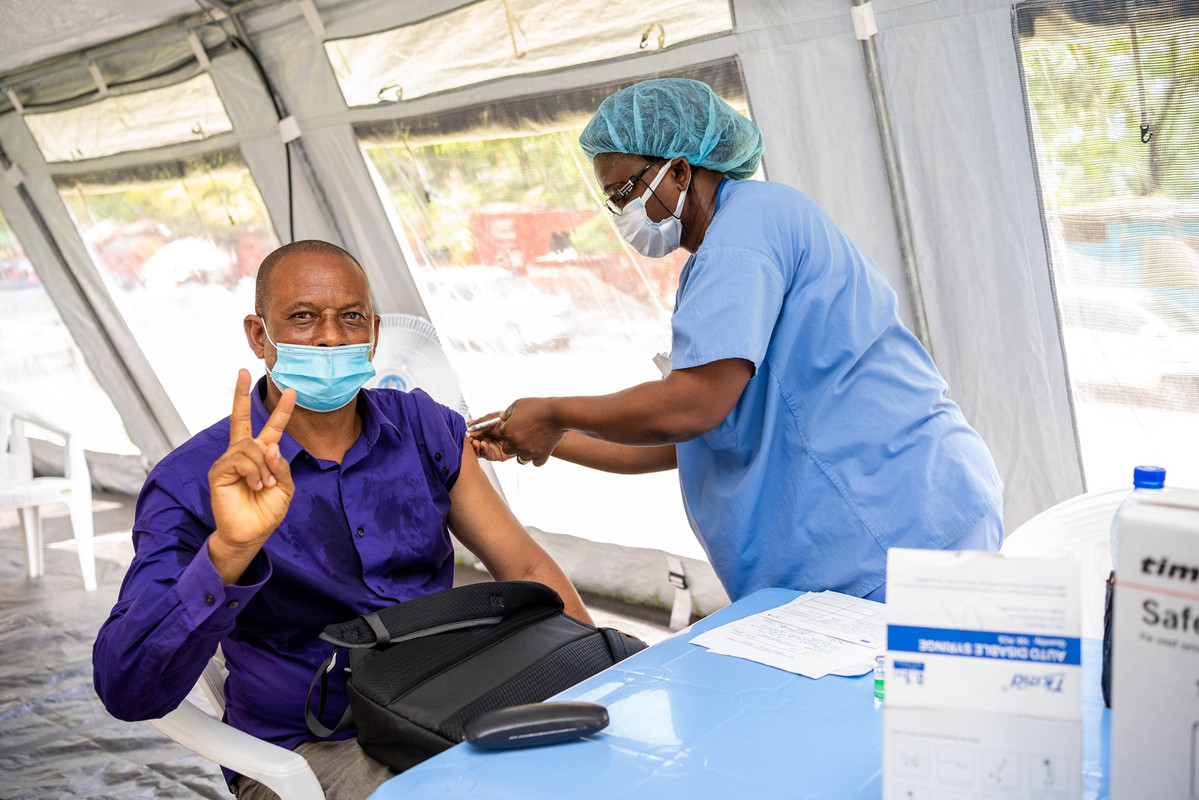 Getting vaccinated in North Kivu, Democratic Republic of the Congo — Photo: UNICEF in RDC.
Skeptics often belittle these concerns by saying that vaccine-related conspiracy theories circulate in wealthy countries too. While this is valid, it is a false comparison. When distrust in government has been built from years of war, persecution and discrimination, citizens are left feeling that at best their government does not care for them, at worst it wants them dead. Such a level of distrust will surely influence national vaccination plans.
In order to end the pandemic and ensure that citizens in post-conflict societies benefit from the vaccine, we must focus, therefore, on building trust.
Our teams of mediators and analysts work in some of the most challenging areas of the world. We know that there are two key variables for ensuring trust in a vaccination campaign. The first is how the information is communicated and the second is who is communicating that information.
This is why it is essential to carefully consider who will be the face of the vaccination campaign, and how this must be adapted to different communities. Everything must be thought out, down to the radio stations chosen to broadcast messages, the locations of vaccination centers and the ethnicity or religion of the nurses who will administer vaccines. Every detail is crucial for ensuring that various communities feel respected, safe and understood. These are issues that should be central to the planning process, not an afterthought.
While the COVID-19 pandemic remains first and foremost a public health challenge, it goes without saying that there will be no sustainable global progress without seriously considering these complex social dynamics. Yes, vaccine distribution is essential. But let's face it: Investments in the COVAX program will only yield real results if we put the issue of trust at the center of immunization efforts. People in post-conflict countries deserve to see the light at the end of the tunnel too.
---
*Charline Burton is the executive director of the Brussels-based NGO Search for Common Ground; Allassane Drabo, based in Conarky, Guinea, is the organization's West-Africa director.
**This article was translated with permission from the authors.
---
See more from Opinion / Analysis here