✕
ITAR-TASS (Russia), CHRISTIAN SCIENCE MONITOR
MOSCOW – The Kremlin has authorized scientists to finally reveal what they say are "trillions of carats" of diamonds located in a field in eastern Siberia that could forever change the market of the precious gem.
The Russians have know since the 1970s of this 35-million-year-old and 62-mile wide meteor site known as Poigai, but have kept it a secret in an effort to control the market fed by their other mines and production of artificial diamonds.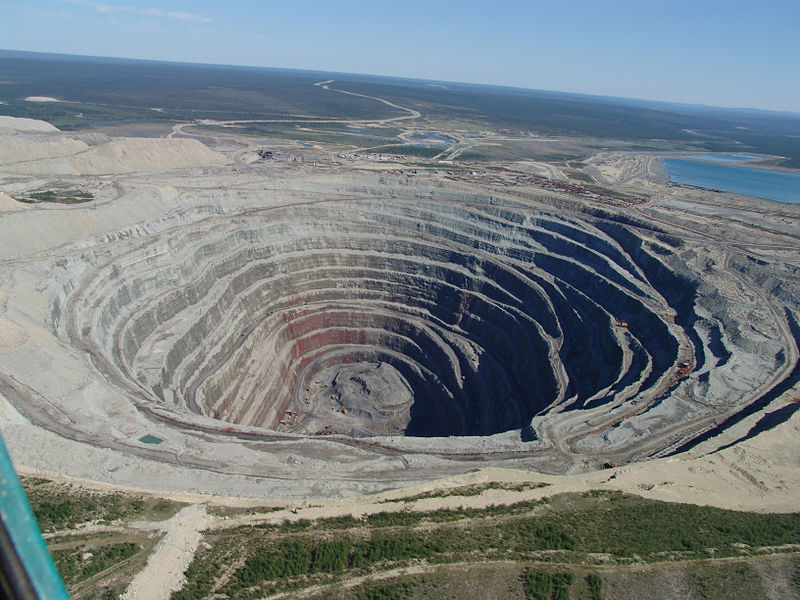 A Siberian diamond mine (Stepanova)
Different than the diamonds that typically make it onto engagement rings, these come from the high-speed impact of an asteroid with graphite deposit, making them "twice as hard" and well-suited for industry, according to ITAR-TASS.
This specific feature of the stones "expands significantly the scope of their industrial use and makes them more valuable for industrial purposes," Nikolai Pokhilenko, director of Novosibirsk Institute of Geology and Mineralogy Director, explained last week to ITAR-TASS.
With production innovation, the resource will become more and more important in advanced scientific fields, notes the Christian Science Monitor.
FOCUS: Russia-Ukraine War
China has adopted a stance of pro-Putin neutrality since the start of Russia's invasion. But this is not an alliance of equals. China has the upper-hand and sees the opportunity to present itself as an alternative world leader.
Society
Architects in Mendoza, western Argentina, have used hundreds of tons of recycled building material, shipping containers and discarded decorations to create an otherwise high-tech winery.
FOCUS: Russia-Ukraine War
A bloc of eastern European countries has distanced themselves from Western Europe — Germany in particular — by sending Soviet era jets to Ukraine, part of growing push to supply the country with Western-made fighter jets.
Dottoré!
"I did it all because basically, I'm an idiot."
Hugo Perrin, Anne-Sophie Goninet, Bertrand Hauger, Ginevra Falciani
FOCUS: Russia-Ukraine War
Chinese President Xi Jinping's visit to Moscow was a much-needed favor Vladimir Putin. But make no mistake, Beijing is there to serve Beijing — and holds virtually all the cards.
FOCUS: Russia-Ukraine War
Putin really is meeting with Xi in Moscow — we know that. But there are credible experts saying that the person who showed up in Mariupol the day before was someone else — the latest report that the Russian president uses a doppelgänger for meetings and appearances.
Geopolitics
In a speech in Paris, Bezalel Smotrich, Israel's finance minister, denied the existence of the Palestinians, sparking angry reactions in Ramallah, Amman and Brussels. But Israel's extreme right is not afraid of provoking a violent crisis with the Palestinians.
Society
The pushing through of a bill to raise the retirement age in France has caused widespread, sometimes violent, protests. The government is worried the movement will spread, as unions warn the protests are just beginning.
FOCUS: Russia-Ukraine War
With the right support, Ukrainians are ready to return, even to new parts of the country where they've never lived.
Geopolitics
As the Chinese government puts together what it calls a peace plan for Ukraine, it's also considering sending weapons to Russia. The Biden administration warns China will "pay a real price" if it helps Russia, but Beijing's real goal is to weaken the United States.
Migrant Lives
With dimmed hopes of a transition from the economic crisis and repressive regime of Nicolas Maduro, many Venezuelans increasingly see the United States, rather than Latin America, as the place to rebuild a life..
FOCUS: Russia-Ukraine War
Reports have emerged of children, retirees, and workers being forced by the Russian military and occupying administration to obtain Russian Federation passports, or face prison, beating or loss of public benefits.
Green Or Gone
Rain often brings deadly flooding and property damage to neighborhoods around Brazil, where people are organizing to address the worsening problem. But there is
FOCUS: Russia-Ukraine War
After the International Criminal Court issued an arrest warrant for Vladimir Putin, Chinese President Xi Jinping arrives in Moscow for a three-day visit. How far will he be willing to go to support Putin, a fugitive from international justice?
Geopolitics
As Xi's closely watched visit to Moscow begins, China and Russia may seem like strategic partners, but it has ultimately shown to be a marriage of convenience. And both countries are naturally competitors, wary if the other grows stronger.
Future
We may be about to see the emergence of a new kind of religion, where flocks worship — literally — at the altar of Artificial Intelligence.
© Copyright Worldcrunch 2021