✕
AMÉRICA ECONOMÍA (Chile)
BOGOTA - Though few have ever heard of BYD, the Chinese industrial conglomerate has more than twice as many employees as Apple. Now, on the other side of the world, visitors and residents in Bogota are getting to know BYD well, after it began supplying the Colombian capital with Latin America's first electric taxis.
BYD is one of just a handful of companies globally to produce completely electric cars, América Economia reports. The company's strength comes as the largest producers of rechargable batteries in the world, which gave it a huge advantage when it decided to enter the electric car market by acquiring an auto maker in 2003.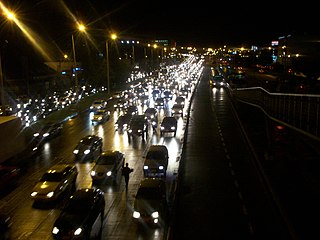 Bogota by night - Traffic! photo: Jose Gacel
Colombia
has already authorized 49 electric taxis in the capital, and it hoping that this first foray into electric taxis will expand into all the cities in the country, as a way to help reduce dependance on fossil fuels,
América Economia
reports.
Colombia follows Mexico and Chile into the market of electric taxis. BYD has also recently agreed to supply its green vehicles to London.
FOCUS: Russia-Ukraine War
Journalists from Ukrainska Pravda report directly from the trenches near Avdiivka, one of the oldest settlements in the eastern Donetsk region of Ukraine, where troops are facing near-constant Russian fire.
Migrant Lives
Since 2015, Europe's strategy to stop irregular migration has focused on arresting so-called smugglers. But those steering the vessels are usually desperate migrants themselves, forced to take the helm.
FOCUS: Russia-Ukraine War
To trace Moscow's decision to transfer nuclear weapons to Belarus, we may need to look to Beijing — and the recent summit of Xi Jinping-Vladimir Putin
Israel
Israeli Prime Minister Benjamin "Bibi" Netanyahu has backed down in the 11th hour on his plans to push forward on a major judicial reform bill that had sparked massive protests.
Geopolitics
France, Israel, United States: these three democracies all face their own distinct problems. But these problems are revealing disturbing cracks in society that pose a real danger to hard-earned progress that won't be easily regained.
Geopolitics
What does Russia's ruling class really think of Putin? A leaked audio recording of Russian producer Iosif Prigozhin and Russian billionaire ex-senator Farhad Akhmedov criticizing Putin has been verified by Russian intel service FSB, offering a peak into the anger toward the Kremlin's war.
Green
Two years ago, forests planted according to a method invented by Japanese botanist Akira Miyawaki, began to spread across in urban spaces in the Portuguese capital. It's a way to bring real enclaves of nature to urban realities in record time.
Geopolitics
Of course Russia's announcement of moving tactical nuclear weapons to Belarus should not be underestimated. But the reality is that, since the beginning of the invasion, Russia's nuclear situation has not changed. We should instead look hard at where both Minsk and Beijing have wound up.
Economy
The continuous increase of public debt and a tone-deaf president in France, the rise of authoritarian regimes elsewhere in the world, the blindness to global warming: realities that we do not want to see and that will end up destroying us if we do not act.
FOCUS: Russia-Ukraine War
Thousands of foreign soldiers are fighting alongside Ukraine. German daily Die Welt met a Chechen battalion to find out why they are fighting.
Society
The Mapping Diversity platform examined maps of 30 cities across 17 European countries, finding that women are severely underrepresented in the group of those who name streets and squares. The one (unsurprising) exception: The Virgin Mary.
Geopolitics
Fueled by the Kremlin, anti-French sentiment in Africa has been spreading for years. Meanwhile, China is also increasing its influence on the continent as Africa's focus shifts from west to east.
Society
Why is it that this nation of a billion-plus has such problems with intimacy and romance?
Economy
China is still a manufacturing juggernaut and a growing power, but companies are looking for alternatives as Chinese labor costs continue to rise — as do geopolitical tensions with Beijing.
Geopolitics
Iran's Supreme leader Ali Khamenei recently sent out a special envoy to ease tensions with wealthy Arab neighbors. He's hoping to end the country's international isolation and dismal economic conditions that contributed to last year's mass protests.
FOCUS: Russia-Ukraine War
Near the embattled city of Vuhledar, Ukrainian artillery reconnaissance units detect enemy positions. They work with drones, tablets and satellite internet — and they are often the last line of defense from a Russian onslaught.
Society
Without an extended family network, modern parents have sought to raise happy kids in a "hostile" world. It's a tall order, when youngsters absorb the fears (and devices) around them like a sponge.
© Copyright Worldcrunch 2021