✕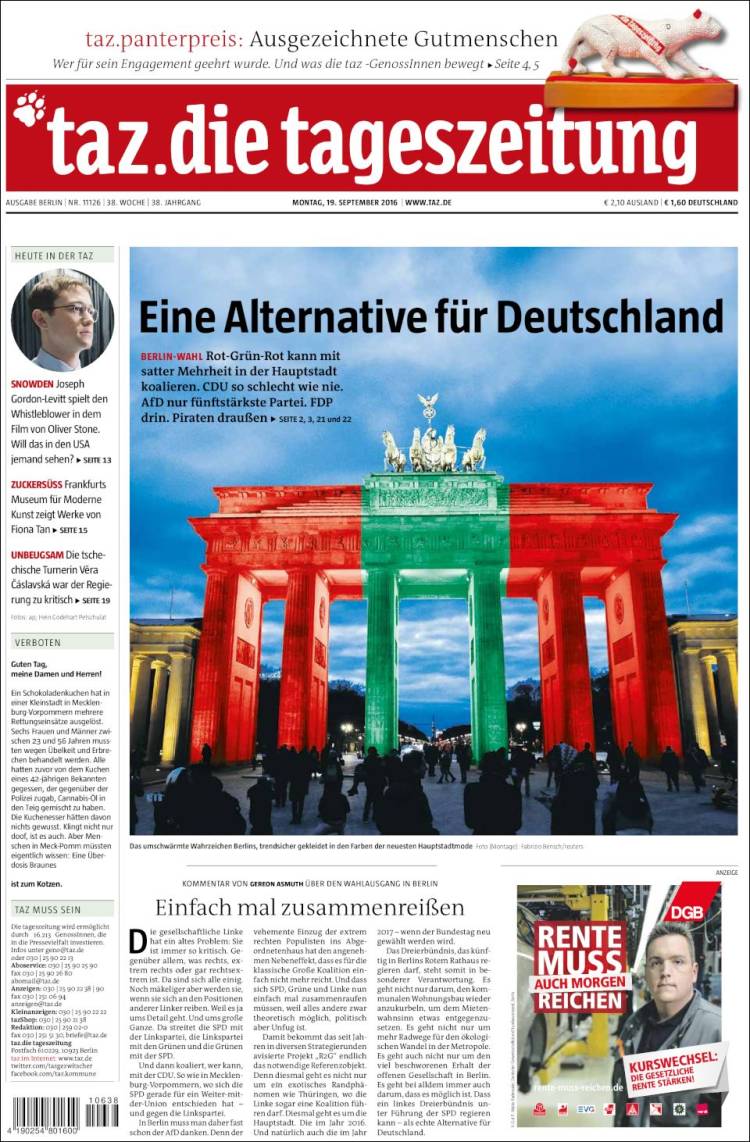 Die Tageszeitung, Sept. 19
Another election, another humbling defeat for German Chancellor Angela Merkel. In a Berlin state vote, Merkel's CDU party polled 17.6% — its lowest showing since 1990, figures from public broadcaster ARD showed on Monday. It's the second poll drubbing as CDU got crushed just two weeks before in an eastern German state election.
The anti-immigration Alternative für Deutschland (AfD), or the Alternative for Germany, a far-right upstart, snatched 14.2% of the vote in Berlin, riding a backlash against Merkel's open-door policy for refugees. Although Merkel's conservatives came in second place, its lower numbers mean the end of their "grand coalition" with the Social Democrats SPD, which topped the election with 21.6% of the vote. SPD's celebrations would be muted, however, as it's down almost 7 percentage points from the last election.
Left-leaning Die Tageszeitung newspaper sees CDU's descent as an opportunity for a different sort of "alternative for Germany," namely a grand coalition of the left, rather than the right-wing alternative AfD proposes. As an editorial in today's newspaper explains, the center-left SPD and Green party are often reluctant to work with far-left Die Linke party. They've previously preferred to team up with center-right CDU, a move the paper describes as "political nonsense."
But with both Greens and Die Linke each taking a respectable chunk of the vote — each polled about 15% — a new kind of coalition is possible, the Die Tageszeitung notes. "We could almost thank the AfD for that," the paper says, arguing that a grand coalition of the left would show that a "real alternative" in Germany is possible with general elections just a year away.
Geopolitics
France, Israel, United States: these three democracies all face their own distinct problems. But these problems are revealing disturbing cracks in society that pose a real danger to hard-earned progress that won't be easily regained.
Geopolitics
What does Russia's ruling class really think of Putin? A leaked audio recording of Russian producer Iosif Prigozhin and Russian billionaire ex-senator Farhad Akhmedov criticizing Putin has been verified by Russian intel service FSB, offering a peak into the anger toward the Kremlin's war.
Green
Two years ago, forests planted according to a method invented by Japanese botanist Akira Miyawaki, began to spread across in urban spaces in the Portuguese capital. It's a way to bring real enclaves of nature to urban realities in record time.
Geopolitics
Of course Russia's announcement of moving tactical nuclear weapons to Belarus should not be underestimated. But the reality is that, since the beginning of the invasion, Russia's nuclear situation has not changed. We should instead look hard at where both Minsk and Beijing have wound up.
Economy
The continuous increase of public debt and a tone-deaf president in France, the rise of authoritarian regimes elsewhere in the world, the blindness to global warming: realities that we do not want to see and that will end up destroying us if we do not act.
FOCUS: Russia-Ukraine War
Thousands of foreign soldiers are fighting alongside Ukraine. German daily Die Welt met a Chechen battalion to find out why they are fighting.
Society
The Mapping Diversity platform examined maps of 30 cities across 17 European countries, finding that women are severely underrepresented in the group of those who name streets and squares. The one (unsurprising) exception: The Virgin Mary.
Geopolitics
Fueled by the Kremlin, anti-French sentiment in Africa has been spreading for years. Meanwhile, China is also increasing its influence on the continent as Africa's focus shifts from west to east.
Society
Why is it that this nation of a billion-plus has such problems with intimacy and romance?
Economy
China is still a manufacturing juggernaut and a growing power, but companies are looking for alternatives as Chinese labor costs continue to rise — as do geopolitical tensions with Beijing.
Geopolitics
Iran's Supreme leader Ali Khamenei recently sent out a special envoy to ease tensions with wealthy Arab neighbors. He's hoping to end the country's international isolation and dismal economic conditions that contributed to last year's mass protests.
FOCUS: Russia-Ukraine War
Near the embattled city of Vuhledar, Ukrainian artillery reconnaissance units detect enemy positions. They work with drones, tablets and satellite internet — and they are often the last line of defense from a Russian onslaught.
Society
Without an extended family network, modern parents have sought to raise happy kids in a "hostile" world. It's a tall order, when youngsters absorb the fears (and devices) around them like a sponge.
LGBTQ Plus
Uganda's new law that calls for life imprisonment for gay sex is part of a wider crackdown against LGBTQ+ rights that is particularly harsh on the African continent.

Russia
Independent Russian media Vazhnyye Istorii has obtained a major data leak from the top Kremlin information agency that reveals the scale and extent of anti-war protests across the Russian Federation.
Irina Dolinina, Polina Uzhvak
© Copyright Worldcrunch 2021