✕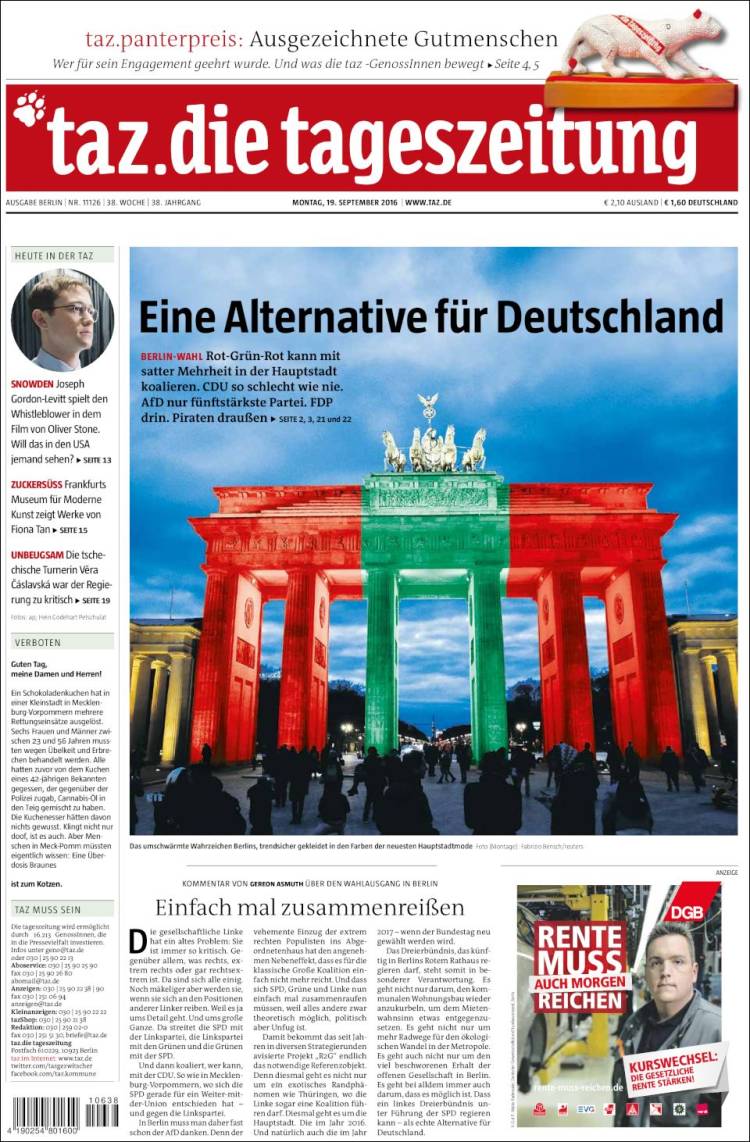 Die Tageszeitung, Sept. 19
Another election, another humbling defeat for German Chancellor Angela Merkel. In a Berlin state vote, Merkel's CDU party polled 17.6% — its lowest showing since 1990, figures from public broadcaster ARD showed on Monday. It's the second poll drubbing as CDU got crushed just two weeks before in an eastern German state election.
The anti-immigration Alternative für Deutschland (AfD), or the Alternative for Germany, a far-right upstart, snatched 14.2% of the vote in Berlin, riding a backlash against Merkel's open-door policy for refugees. Although Merkel's conservatives came in second place, its lower numbers mean the end of their "grand coalition" with the Social Democrats SPD, which topped the election with 21.6% of the vote. SPD's celebrations would be muted, however, as it's down almost 7 percentage points from the last election.
Left-leaning Die Tageszeitung newspaper sees CDU's descent as an opportunity for a different sort of "alternative for Germany," namely a grand coalition of the left, rather than the right-wing alternative AfD proposes. As an editorial in today's newspaper explains, the center-left SPD and Green party are often reluctant to work with far-left Die Linke party. They've previously preferred to team up with center-right CDU, a move the paper describes as "political nonsense."
But with both Greens and Die Linke each taking a respectable chunk of the vote — each polled about 15% — a new kind of coalition is possible, the Die Tageszeitung notes. "We could almost thank the AfD for that," the paper says, arguing that a grand coalition of the left would show that a "real alternative" in Germany is possible with general elections just a year away.
Economy
Milk shortages are not new in Cuba, where the state pays producers less for their milk of what they can gain by selling it on the black market.
Geopolitics
"Taiwanese would laugh at the leader worship of the North Koreans, but wasn't that what we did in the days of Chiang Kai-shek?"
Society
In the bohemian Australian seaside town of Byron Bay, rents are now higher than Sydney or Melbourne. And as Airbnb takes its toll, this small town has almost as many homeless people as Sydney.
Geopolitics
The longer the war in Ukraine continues, the louder calls will grow for a ceasefire . Stockholm-based analysts explain how the West can reach a viable deal on this: primarily by avoiding strategic mistakes from last time following the annexation of Crimea.
Hugo von Essen, Andreas Umland
Society
The country's worst economic crisis in decades has toppled the government and led to soaring prices. Pregnant women struggle to access essential supplies.

Dottoré!
A psychiatrist unpacks her relationship with driving, and her dad.
Economy
Venezuela is to create free economic zones to attract foreign capital into the Venezuelan economy, but who would take "clean" money to a lawless land run by rapacious revolutionaries?
Society
Emerging religions and cults in Asia are deeply intertwined with politics: in China, religions need political approval, while in Japan religious groups use political platforms to assert themselves. Not even the killing of former Japanese Prime Minister Shinzo Abe, carried out by a member of the Unification Church, has prompted a closer look at exactly what role religion plays in society.
Geopolitics
African countries have mostly stayed quiet on the war in Ukraine. And with good reason. Western influence is diminishing on the continent, and Russian President Vladimir Putin knows how to push the right buttons of African autocrats.
Society
Seventy years after her death, displays in Buenos Aires, including a vast collection of pictures shown online, recall the life and times of "Evita" Perón, the Argentine first lady turned icon of popular culture.
Ideas
As the populist leaders face sinking poll numbers and the nearby war in Ukraine, they turn to the tactics of racism and transphobia, which ultimately adds up to fascist tactics.
Ideas
Rishi Sunak, a Hindu of Indian origin, is in the running to become the UK's next prime minister. His religion has not factored at all into debates — a fierce contrast to a religiously divided India.
Green
As measures to curb climate change move slowly in the face of deadly new weather patterns, we must immediately mitigate the havoc it has begun to cause around the world.
FOCUS: Russia-Ukraine War
Russian troops have so far been unable to mount a decisive offensive in the east, as Ukraine records small but meaningful successes near the southern city of Kherson. This is not how Vladimir Putin had it planned.
Society
In parts of sub-Saharan Africa, where many people believe in witchcraft, allegations occasionally flare into violence and death.
Geopolitics
The Supreme Leader's advisers in Tehran argue the Islamic Republic must back Russia in Ukraine because Russia is fighting a common enemy: the Western alliance.
Economy
Initially used to measure the link between exploited resources and final results in the industrial production process, the concept of productivity is the most widely used economic indicator. It is also sorely out-of-date.
Geopolitics
As hostilities flare again between Serbia and Kosovo, the writer draws connections between the dissolutions of both the USSR and Yugoslavia, and the leaders who exploit upheaval and feed the worst kind of nationalism.
Green
In the northern Italian region of Veneto, drought has forced half the municipalities to ration water resources. In contrast, the region's Coca-Cola plant has upped production, using even more water that it gets for a cheap price.
© Copyright Worldcrunch 2021