✕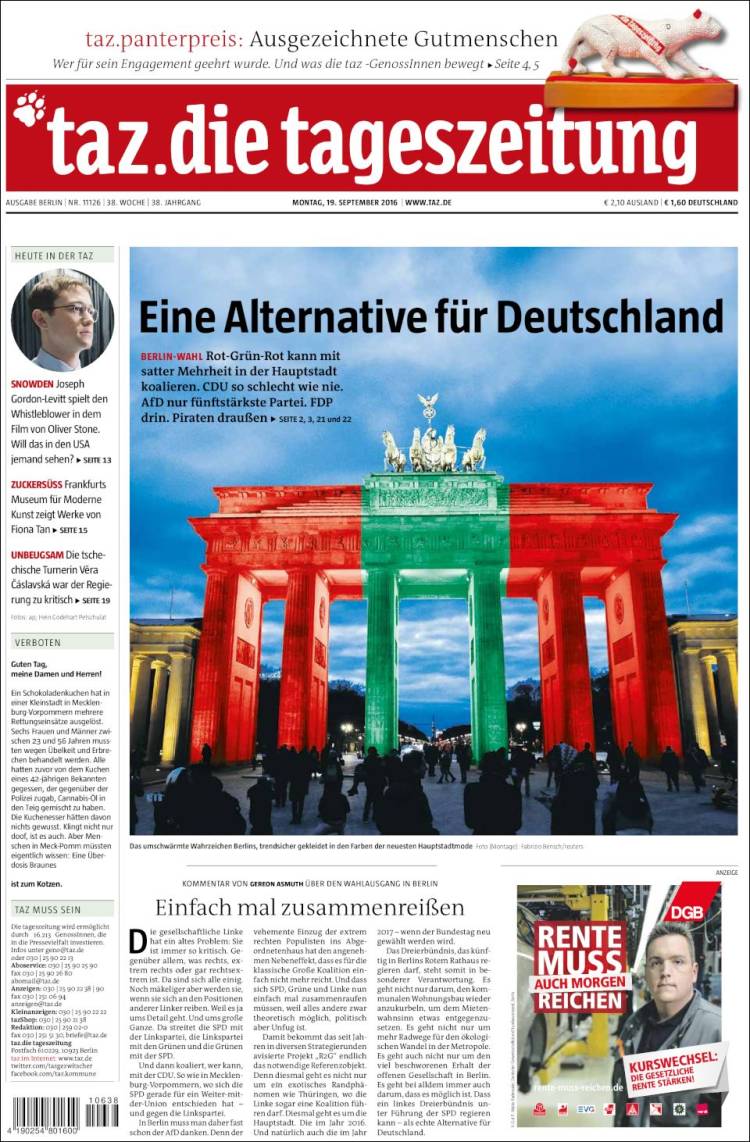 Die Tageszeitung, Sept. 19
Another election, another humbling defeat for German Chancellor Angela Merkel. In a Berlin state vote, Merkel's CDU party polled 17.6% — its lowest showing since 1990, figures from public broadcaster ARD showed on Monday. It's the second poll drubbing as CDU got crushed just two weeks before in an eastern German state election.
The anti-immigration Alternative für Deutschland (AfD), or the Alternative for Germany, a far-right upstart, snatched 14.2% of the vote in Berlin, riding a backlash against Merkel's open-door policy for refugees. Although Merkel's conservatives came in second place, its lower numbers mean the end of their "grand coalition" with the Social Democrats SPD, which topped the election with 21.6% of the vote. SPD's celebrations would be muted, however, as it's down almost 7 percentage points from the last election.
Left-leaning Die Tageszeitung newspaper sees CDU's descent as an opportunity for a different sort of "alternative for Germany," namely a grand coalition of the left, rather than the right-wing alternative AfD proposes. As an editorial in today's newspaper explains, the center-left SPD and Green party are often reluctant to work with far-left Die Linke party. They've previously preferred to team up with center-right CDU, a move the paper describes as "political nonsense."
But with both Greens and Die Linke each taking a respectable chunk of the vote — each polled about 15% — a new kind of coalition is possible, the Die Tageszeitung notes. "We could almost thank the AfD for that," the paper says, arguing that a grand coalition of the left would show that a "real alternative" in Germany is possible with general elections just a year away.
Geopolitics
Colombia's police chiefs must be dismally ignorant if they think it was "instructive" to expose young cadets bereft of historical education to Nazi symbols.
Geopolitics
After the Sunni fundamentalist Taliban rulers retook control of Afghanistan, there were initial, friendly signals exchanged with Iran's Shia regime. But a recent border skirmish recalls tensions from the 1990s, when Iran massed troops on the Afghan frontier.
Coronavirus
The ominous Omicron COVID-19 variant has made a splash on international dailies and weeklies alike.
Weird
Between 300 and 500 birds (not to mention eggs and chicks) are thought to have died near a natural reserve, potentially all because of a land dispute.
Alidad Vassigh and Irene Caselli
Anne-Sophie Goninet, Jane Herbelin and Bertrand Hauger
Economy
So a dozen of the top CEOs in the world (including heads of Google, Microsoft, IBM and now Twitter) come from a country with 18% of the world's population. But there are other numbers our overly proud fellow Indians should be running.
Anne-Sophie Goninet, Jane Herbelin and Bertrand Hauger
Geopolitics
In spite of the toll sanctions have taken on its economy, Iran wants a deal on its nuclear program that addresses none of the West's concerns about its military ambitions. It is also moving forward with new uranium enrichment technology.
Ahmad Ra'fat and Hamed Mohammadi
Coronavirus
The Omicron variant has sparked a new wave of COVID-19 travel restrictions, but the chances of returning to worldwide shutdowns are slim for a series of reasons.
Geopolitics
Ousted Prime Minister Abdalla Hamdok was the face of the "stolen revolution". The fact that he accepted, out of the blue, to return at the same position, albeit on different footing, opens the door to the final legitimization of the coup.
Society
The "New Pharmacy" was famous throughout the St. Pauli district of Hamburg thanks to its industrious owner. Now, her daughter is transforming it into a museum dedicated to the history of sex toys, linking it with the past "curing" purpose of the shop.
Anne-Sophie Goninet and Jane Herbelin
Coronavirus
As we learn yet another Greek letter through the new COVID-19 Omicron variant, around the world the new wave is starting to sound very familiar.
Society
Early detection and accessible help are essential in the fight against domestic violence. Hairdressers in the Dutch province of North Brabant are now being trained to identify when their customers are facing abuse at home.
Anne-Sophie Goninet, Hannah Steinkopf-Frank and Jane Herbelin
Coronavirus
A South African researcher of infectious disease sees specific steps that governments should and shouldn't be taking in light of the new COVID-19 variant Omicron.
food / travel
Airlines are eyeing premium economy seating options to woo money-conscious business class travelers, and possibly weary economy passengers, back to air travel.
Anne-Sophie Goninet, Hannah Steinkopf-Frank, Jane Herbelin and Bertrand Hauger
Coronavirus
When it comes to vaccination rates, there are striking parallels between Germany and the United States. The states with the most opposition to vaccines differ politically from those with the highest vaccination rates. Now the consequences for booster shots are starting to become visible, especially in the United States.
© Copyright Worldcrunch 2021